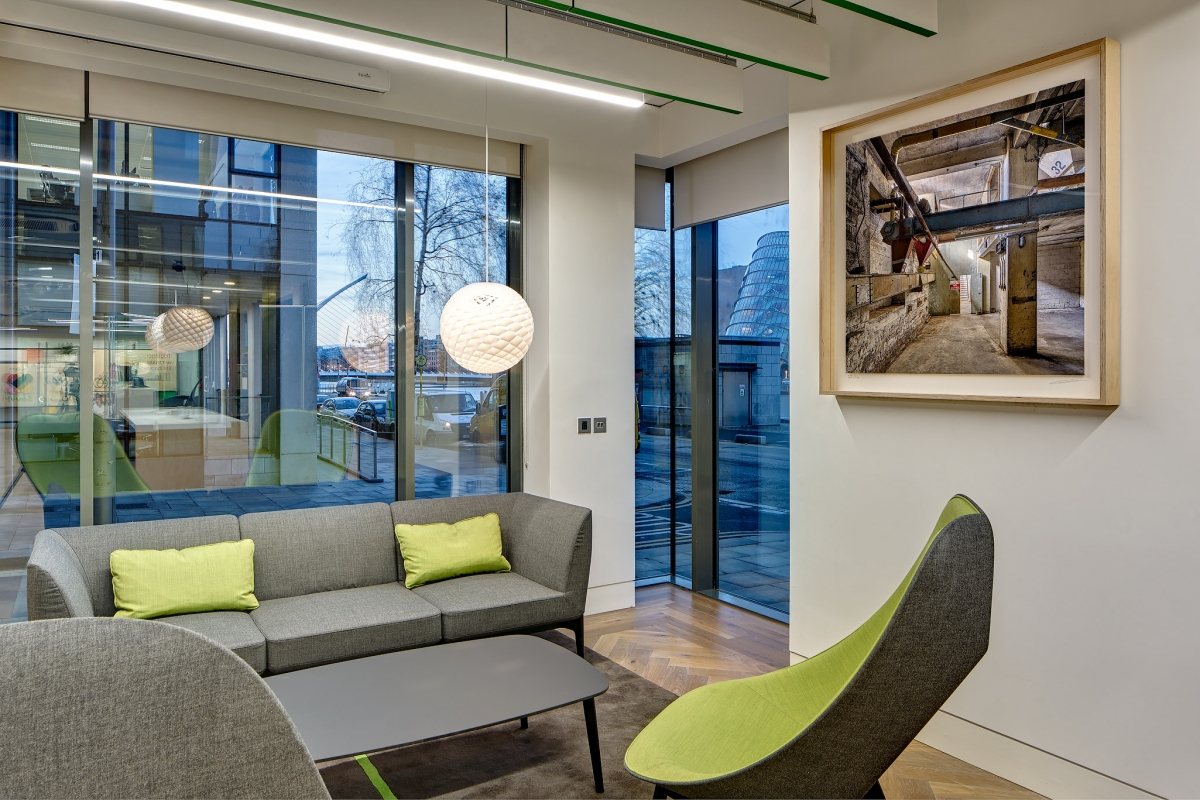 Polished Birch Finnish Ply with Anti Reflective Acrylic
Today I installed a piece in the wonderfully designed new Savvi Credit Union at Sir John Rogerson's Quay in Dublin. The very talented Darmody Architecture designed the fitout to a very high standard. A clever use of space and a wonderful combination of finishes and materials create an atmosphere far removed from what one sees typically in financial institutions. There is a warmth to the place that makes customers feel at home. There are a number of timber materials used in Savvi including a lot of beautiful plywood. The lamination of high quality ply has been one of my favourite affects in bespoke furniture for decades. I designed a plywood frame last year and there was a perfect opportunity for it to be used on this large piece, commissioned by Savvi. Inspirational Arts printed a stunning print on my favourite paper Hahnemühle Fine Art Pearl. Steve in 360 DPI did a great job of assembling the frame. Due to the size of the frame which stands at 1.1 x 1.1m, acrylic was used instead of glass. It dramatically reduces the weight. At the same time it offers museum standard image protection against UV and fading. The client decided to get anti reflective acrylic which elevates the print to another level. It dramatically reduces reflections to the extent you barely notice the acrylic. As a result the viewer becomes much more connected with the photograph. You can clearly see the texture of the paper. It becomes more tactile. It almost looks like a naked print.
I love working with great crafts people to create the best possible prints and finishes. I also love working with clients and designers to deliver an artwork that not just celebrates the image but also the space in which it is displayed. How the image is displayed is crucial to how it will be appreciated. The plywood finish on the frame works perfectly with the space and compliments the materials used throughout. Boland's Mill No.4, an image captured only hundreds of meters away at the Old Boland's Mill site shortly before much of it was demolished for redevelopment was the perfect choice. I'm really happy with the result.