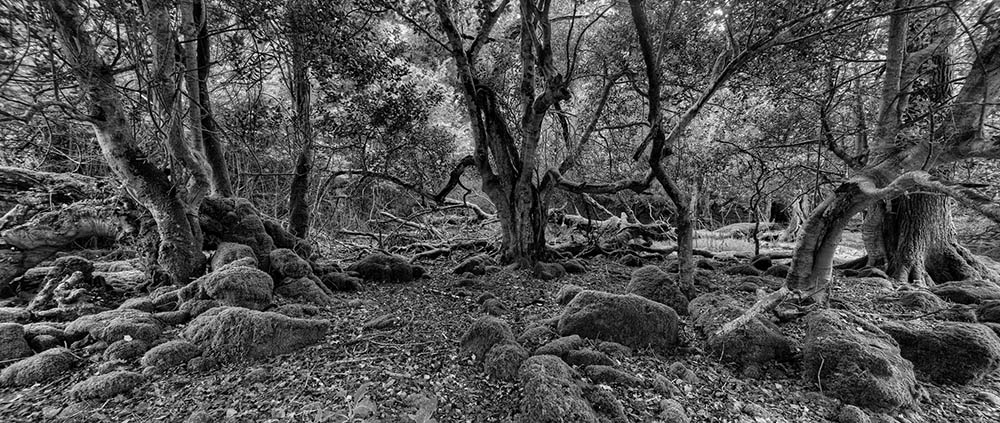 Well. I've been working non stop on my exhibition for the last 2 weeks and I thought it would be nice to take a break today and work on my series of images I took for a client of mine recently. Some of the images which I like the most were not selected because they were not quite related to the brief so I just got around to doing them now. The commission was to photograph different locations around the south of Ireland for a series of huge photos, which will be part of a new office fit out in Cork. Each image has a connection to a piece of text or poetry from famous Irish poets and writers. When I say huge photos I mean really huge. The largest is 3 meters high and 13m wide!! Quite a few photos were to be off trees and forests. The forrest images are the largest with a very wide aspect ratio.
During the commission I realized how much I forgot about a large part of the countryside. Namely forrest and mountains. That might sound strange considering I'm a landscape photographer plus I was brought up in the countryside but I am always draw towards the sea when I photograph. It's not intentional. I just love the sea. Always have and always will. The client wanted me to photograph specific trees, namely oak, ash, holly and birch. I actually had to research what the trees looked like. I could once identify many Irish trees without any trouble as a child. I also realized how much I love trees. I love their statuesque form and their determination to grow wherever they please. In Tommies wood in Kerry they appeared to grow out of rocks! I even saw a tree that seemed to be 3 different types of tree!
I photographed a 360° image of a moss covered oak forrest at Galway's Bridge. I spent 3 hours there alone, surrounded by these beautiful trees, many of which must have been several hundred years old. Everything was covered in moss. The ground, the rocks, the trees, the dead branches on the ground. The place was so peaceful. God knows what these trees have seen over the years and I decided a tree based series of panoramics will be my next project. I loved the challenge of the 360° shots. For the image to work I had to be completely immersed in the scene, to imagine the curvature of the landscape and the location of every object around me which would make or break the image.
Here are my favorite images from my trips. The forrest images loose their impact on the screen because they really have to be view in a large size to appreciate them. The images here are un cropped.