Bio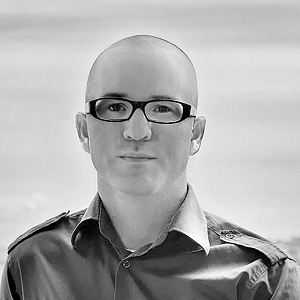 Enda Cavanagh is an award winning Dublin based professional architectural and landscape photographer.
He is an associate member of the Irish Professional Photographer's Association (the IPPA) and since leaving behind a career in architecture in 2009 has become one of the leading architectural and fine art landscape photographers in Ireland.
He grew up in rural Ireland and has always felt a strong connection to the land. He is drawn in particular to the rugged beauty of Ireland and discovers a great sense of peace in our environment. He seeks to reflect the inherent drama and melancholy of the Irish landscape in his photographs. Enda Has been a landscape photographer since his childhood. Since than he has fondly captured his photos of Ireland. He regularly finds himself photographing landscapes that show evidence of man's existence and his impact on the land. Many of his images also feature man made objects that, over time, have themselves become part of the landscape. Enda's landscape photography captures the character of the land and communicates the subtle patterns, shapes and forms which exist in  our landscape.
Enda appreciates how essential the presence of man is to our understanding of our environment and seeks to capture the tension implicit in the emergence of beauty from the detritus of our existence. He challenges our comprehension of beauty by asking us at what point does age become attractive. Enda helps us to perceive the dynamic nature of the country we inhabit and casts a cold, challenging eye upon the traditional interpretations of the Irish Landscape.
Enda worked for 16 years in architecture, including award winning projects both in Berlin and in Ireland. His long experience in architecture and his deep knowledge of photography allows him to quickly realise the vision of his client's creative teams while working as an architectural photographer in Dublin.
Having worked within the industry, Enda is adept at collaborating with designers and architects. This understanding of the design process is a great aid in facilitating the clear identification of the project's aims and ensures an accurate actualisation of these project goals.
His vision of the Irish Landscape allows Enda to draw dramatic parallels between the subjects of his work and their surroundings. Enda's Landscape work emphasises the dynamic and transitive nature of our relationship with our environment. This allows Enda a unique vantage point from which he can portray the connections between our constructions and the contours which give them context.
In 2011 he became the first photographer in Europe to receive a QEP (Qualified European Photographer) by the Federation of European Photographers in the category of fine art landscape. Having received best single image award in the landscape category in the National 2010 IPPA/RSA Photographer of the year awards, Enda was also awarded architectural photographer of the year 2011, 2013 and 2015. He won best single image award in the pictorial category in the 2012 IPPA awards and best single architectural image in the 2014 and 2015 IPPA awards. He was a finalist in the 2010 FEP European Fine Art Photograph of the Year Awards, the 2014 & 2015 World Photographic Cup and the 2014 & 2015 FEP European Professional Photographer of the year awards.
Testimonials
"Enda's creativity and passion is captured in images that are not only powerful but wonderfully evocative. Two exquisite examples of his work have become part of my home. Even a fleeting glance makes me stop and immerse myself in the beauty and intensity of their composition. They depict familiar settings, capturing the essence of my childhood, but with an entirely fresh approach. Thanks Enda, your photographs will always be cherished in our home."
Louise Phelan
Waterford, Ireland
"I absolutely enjoyed looking through all of the beautiful landscape photos Enda has on the website…so many options! Do I want black and white? Color? Beach shot? Farm scene? I finally decided on a gorgeous black and white beach shot, purchased through PayPal and received the framed, signed photo the next week. Shopping was pleasant, shipping was easy and the finished product was exactly what I wanted."

Jessica Montagna
San Diego, USA
"It was a pleasure working with Enda. We wanted to bring a sense of movement and life into our scheme and Enda's photographs were ideal, beautifully capturing the beauty of the Irish landscape. Everyone who visits our scheme always comments on his pieces in particular the large wall mounted forest piece Gougane Barra Forest 2 in the reception which is a real stand out piece. We would definitely recommend Enda's work."

Jane McHugh
Senior Asset Manager at Kennedy Wilson, Dublin
"My family and I really appreciate the lovely photo's that we have gotten from you and have recommended your website to friends. Keep up the good work and we will be back for more soon. Thanks again."

Peter Farren
Singapore
"Enda has a very special talent – he can transform any average looking landscape into a breathtaking work of art. I have no idea how he does it, but every time we work with him, his results exceed all expectations. He works quickly and efficiently, is passionate about what he does, and is always a pleasure to work with, therefore we have no hesitation in recommending him and working with him on any relevant future projects."

James Skinner
Design Director, Twelve Studio, London, England
"We recently acquired some of Enda's photographs for our new office. It was difficult to choose 4 of his stunning photographs but Enda was very helpful and patient while we made our choice. The photographs arrived very quickly after our order and were beautifully framed. His work is a pleasure to look at and he's a pleasure to work with. I would definitely recommend."

Naomi Whelan
Everest Reinsurance Company (Ireland) Ltd
"Have just received Enda's beautifully framed photograph. The detail and colour captured in the photograph reflects so well the west of Ireland and it will take pride of place in my home. Hope to see more of the west of Ireland in your portfolio in the future."

Susan Ward
Brussels, Belgium
"I just wish to let you know how very happy I am with the two photos I purchased from you. They stand out brilliantly in my dining room and they have been much admired by Guests visiting my home. Some have thought they are paintings rather than photographs. The frames are superb also. I congratulate you on the outstanding quality of your work and in due course I hope to make further purchases. I wish you every success and in your case it would be well deserved."

Patrick Duffy
London, England
"For me Enda captures the true essence of Ireland. His photo gives me a window to my favorite place, draws me in and I never fail to stop and look as I pass. Having fallen in love with my one photo, I was delighted to be able to bring home a whole book of beautiful photos. Enda's Irish Landscape is a true delight, page after page of glorious photographs, a true reflection of Ireland."

Yvette Owen
London, England
"I have just received my large photograph of Blackrock mounted on acrylic and I love it. Very much admired by all my friends. It's like a movie screen-almost 3D. Thanks Enda"

Helen O'Keefe
Dublin, Ireland
"I'm proud to have the two photographs of the Forty Foot here at home in the warmer south. They are absolutely perfect for me: as memory of a place I love and as a dream of what it is when no one is there. You can smell the sea and feel the wind looking at them. Thank you Enda for your great work."

Cesare Colletta
Naples, Italy
"We moved to Canada 5 years ago and love to have reminders in our home of where we grew up. Enda's photos of Ireland perfectly capture the beauty of Ireland, and are exquisit pieces of art. I ordered a limited edition print online for my husband's birthday and he was delighted! Enda was quick to respond to my request, was very customer focused, the print was delivered within a week of ordering with a authenticity certificate, and the quality was incredible. I will definitely be building up my collection of art from Enda Cavanagh."

Suzanne Raitt
Toronto, Canada
"I just want to say a huge thank you for all your help and hard work in getting those fantastic photos to my client. The client and her guests absolutely loved your images. They really were so delighted with them and couldn't wait to get them home. The way you handled all those last minute changes was fantastic. You really made ordering a large number of different images so easy for me. You were a dream to work with. Looking forward to working with you again in the future."

Laura Harbison
Ovation Ireland
"I recently purchased one of Enda's landscape pictures for my partner. He loved it almost as much as I did! Enda's work is moving, personal and beautifully finished. He has a keen eye for detail and, like the other Kavanagh, sees the beauty in everyday life."

Isla O'Dowd
Dublin, Ireland
Awards
21/02/2016 | Fine Art Photographer of the year at the National 2016 Irish Professional Photographer of the Year Awards.
21/02/2016 | Bank of Ireland People's Choice Award in the National IPPA Photographic Awards 2016.
02/02/2015 | Finalist in the 2015 World Photographic Cup.
06/02/2015 | Finalist in the FEP European Professional Photographer of the Year Awards 2015.
10/03/2015 | Received 4 awards at the 2015 National IPPA Awards. I won architectural and Commercial/Advertising Photographer of the year as well as best singled image in both categories. Click here to see the images.
06/02/2014 | Finalist in the FEP European Professional Photographer of the Year Awards 2014.
19/02/2014 | Finalist in the inaugural 2014 World Photographic Cup.
08/03/2014 | Best single best Architectural image in the 2014 National IPPA Photographic Awards.
28/02/2013 | Architectural Photographer of the year at the 2013 National IPPA Photographic Awards.
29/02/2012 | Radiating beams, Blackrock Baths at Sunrise received single best image award in the fine art/pictorial category at the 2012 IPPA awards.
22/05/2011 | Received QEP from the Federation of European Photographers.
27/02/2011 | Architectural Photographer of the year at the 2011 National IPPA Photographic Awards.
06/02/2011 | Finalist in the FEP European Fine Art Photograph of the Year Awards 2010.
07/10/2010 | Awarded Associateship in the Irish Professional Photographer's Association (the IPPA).
01/03/2010 | Sand in Motion, the Pigeon House received single best image award in the landscape category in the 2010 National IPPA Photographic Awards.
Sizes & Editions
Prints
All images are available in limited editions, which will make your Photographs pieces of Art and will maximise their value. Limited edition prints come with a Certificate of Authenticity. This verifies the name of the photographer, print details and edition number.
Enda's Cycle of Life images are printed using an Epson Stylus Pro 4900 Printer, which uses a 11 ink pigment ink system, specially formulated to reduce graininess and bronzing and resist scratching and fading, providing you with an image which is light resistant for well over 100 years as well as water resistant. Prints are printed on Hahnemuhle Fine Art Pearl Paper. One of the finest papers on the market and my personal favourite.
All Artist's Choice Photos are printed and mounted by the best printers in Ireland to the highest industry Standards. All prints are archival and resistant to fading. They are colour corrected by master printers and RIP'ed to bring out every ounce of wonderful detail. I always go the extra mile and for example Hahnemuhle Fine Art Pearl Paper is my paper of choice on my Dibonds. These offer the ultimate in visual appeal and achieving high archival standards. My acrylic pieces are only available in top quality scratch proof acrylic.
Limited Editions
I sell my works in smaller affordable sizes in editions of 30, titled the Cycle of Life or stunning exclusive small editions titled Artist's Choice.
Cycle of Life Editions of 30:
The naming of print sizes in the Cycle of Life refer to 3 of the Tree Life Stages. It is a wonderful way of connecting the sizes of the pictures with the timber materials used in the framing and is often reflected in my landscapes.
Cycle of Life Sizes:
Seed – The first stage a tree goes through in its life is a Seed. The Seed Print size is the smallest of the 3 available. A floating Print Framed is the Framing used in this size.
Youth – The middle stage a tree goes through in its life is Youth. The Youth Print size is the medium size of the 3 available.A floating Print Framed is the Framing used in this size.
Prime of Life – One of the later stages in a tree life cycle. It is now that the tree truly displays itself in all it's glory. The Prime of Life Print size is the largest size of the 3 available. A number of framing options are available in the Prime of Life size.
Cycle of Life Framing:
Prime of Life uses a deeper frame and float to give the piece a fantastic depth.
Floating Print Framed – An elegant contemporary choice. Borderless Hahnemühle Fine Art Pearl Print float mounted onto signed archival backing board. Framed with black stained Timber Frame.
Mounted Print Framed with Timber Fillets – Hahnemühle Fine Art Pearl Print mounted onto signed archival mount board with an additional timber fillet. The timber fillet is a deep tapered timber surround which is placed directly behind the mount and gives the print a gorgeous classical appearance. Framed with black stained deep Timber Frame. Only available in Prime of Life size.
Floating Print with Plywood Frame – The ultimate in style and quality when displaying my Cycle of Life pieces. This offers something quite unique and was completely designed by myself. Consisting of a borderless float mounted Hahnemühle Fine Art Pearl Print. Framed with 85mm deep clear Birch Plywood Frame with clear satin finish. Additionally my forest Prime of Life works only come with high quality anti Reflective Museum Glass. The Glass becomes almost invisible while offering 99% UV protection. Only available in Prime of Life size.
Artists's Choice:
I offer many of my works in large sizes that are in small exclusive editions. These editions, titled Artist's Choice is truly how I imagine my images to be seen during that precious moment when I capture a scene.
I use the best printers in Ireland to produce breathtaking archival prints of amazing clarity and detail, which matches my high end photographic equipment and painstaking techniques.
Artist's Choice Finishes:
Hahnemühle Pigment ink Prints mounted on scratch resistant Diamond Polished Acrylic. The acrylic deflects the light to give an almost 3D affect. This frameless contemporary style is perfect for the home and corporate environment. Ideal for images which simply pop of the page.
Hahnemühle Pigment ink Prints mounted on 3mm Dibond. A clear protective laminate is bonded to the print and finished with tray frames along the edges to give the piece an elegant look and depth. Ideal for black and white images or colour scenes with subtler tones. They exude a great sense of style and sophistication.
Artist's Choice Sizes:
The images can be sized to suit your space but 4 Artist's choice sizes are available on my website. Artist's choice A is the smallest possible size in the edition. Size D is the largest possible in a single physical piece. Additional ultra large sizes are possible and I have printed images up to 6m wide split into multiple pieces for a number of clients in the past for private and corporate clients. Please contact us for sizes over 3m.
Equipment
The quality of the final Image is of paramount importance to Enda and the equipment he uses makes this possible. He uses a Hasselblad H3-D 39 Medium Format Digital Camera with 28mm and 50-110mm Lenses. The H System is regarded as one of the most technologically advanced cameras on the market today. He uses an Arca Swiss RL3Di view camera with 24mm, 35mm, 47mm & 90mm lenses. When used on the 39 megapixel back of the Hasselblad one achieves an image quality which is at the very highest level and satisfies all the specific demands of a fine art photographer. In the past he used a Mamiya 7 Medium Format Rangefinder Film Camera and a 43mm lens. He scanned the negatives and slides using an Imacon Photo Drum Scanner.
Enda invested in a Sony A7rii Camera system in addition to a number of high quality Canon lenses. These have proved invaluable for his architectural photography work.
Purchasing Limited Edition Images:
Limited edition photographic prints can be purchased online by selecting your chosen picture from the Personal Works Gallery. Prints can be purchased through the online shopping cart by simply adding images to the cart and then following some simple steps. Payment is made through direct bank transfer or credit card payment with Paypal. Orders can also be made by phone, email or in person. Enda can provide fine art photography to art galleries and dealers, interior designers, corporate customers and individual collectors so please don't hesitate to call or email if you have any questions.
Purchasing Third Part Image Licenses:
It is possible to purchase Third Part Image Licenses from my commercial image gallery. Please contact us directly for prices.
About Paypal:
You can use Visa, MasterCard, Discover, and American Express with PayPal without the need to set up a Paypal account. Plus, when you pay with PayPal, you do not expose your credit card number to the merchant. Of course you may also pay through your paypal account if you wish. PayPal is a secure online payment system used and trusted by over 78 million users worldwide. PayPal protects your financial information with industry-leading security and fraud prevention systems. Enda Cavanagh is a PayPal Verified Seller. Once your payment is complete, you will be emailed a receipt.
Pricing and Taxes:
All Limited Edition Prices quoted on the site are quoted in Euros and exclude Irish Value Added Tax (VAT). VAT which, at the current Irish rate of 13.5% is added on in the shopping cart.
All E.U. member states pay the prices shown including Irish VAT. However, if you are an E.U. commercial business user (except Irish) and have a valid VAT/Intrastat number, you can quote it when prompted to do so in the ordering area and you will be exempt from the Irish VAT element of the price.
All non-E.U. customers are exempt from VAT. You may, however, be liable to pay customs clearance, duties or local taxes on arrival of the consignment. It is always the customer's responsibility to pay their country's local duties and taxes.
Gift Vouchers:
If an Enda Cavanagh photograph is the perfect gift, but you're just not quite sure which image to choose, give a gift certificate. Simply place the amount in the space provided and fill in your personalised message and proceed to the shopping cart. A personalised voucher will be emailed or posted to you or your recipient with the attached message and a unique number for use at any time to purchase an image of their choice. The gift voucher has to be used in full when making a purchase as there are no partial refunds.
Shipping:
Shipping is usually calculated when ordering. For multiples of Artist's Choice please contact us for shipping estimate. Orders can be canceled before dispatch by email or by phone. Delivery times vary depending on your location. Prints require 2 days drying time before framing. Irish customers take generally 3 to 4 working days. European deliveries take 5 to 6 working days and all others are generally 8 to 10 working days. If you need it sooner just let us know and we will try our best to accommodate you.
Returns Policy:
In case you have received the wrong item or damage has occurred to the item on its way to you, there is a return policy and I am happy to make things right.
If for any reason you are unhappy with your purchase, you can return it to me within 7 days after the item is delivered. Please contact us in advance by telephone or email. A full refund will be issued once the goods are returned in their original condition and using the original packaging. Please note that you will be responsible for the costs of returning the goods to me unless the wrong item is delivered to you or the item is faulty. For your protection, I recommend that you use a recorded-delivery service.
Damaged Items:
All orders are handled and packaged to ensure their safe and sound arrival. If your package is received with obvious external damage, please refuse shipment unopened citing damage. This will ensure immediate replacement of your order or refund. If upon opening your package you find the contents damaged, please keep all of the original packaging and notify Enda immediately in writing via email. Please have the following information included: order number, item description and shipping details. The courier will pick up the package for return free of charge. A replacement will be dispatched immediately upon receipt of package or alternatively a full refund will be made including shipping charges on original package.
Under Irish/E.U. law, we are governed by theThe European Directive on Distance Selling (Directive 97/7/EC) (pdf) and the EC (Protection of Consumers in respect of contracts made by means of distance communication) Regulations 2001 (Statutory Instrument 207 of 2001), which aim to ensure that consumers can expect the same minimum level of protection no matter where a supplier is based in the European Union, European Economic Area and Switzerland.
The European Directive on Distance Selling (Directive 97/7/EC) was incorporated into Irish Law by the EC (Protection of Consumers in respect of contracts made by means of distance communication) Regulations 2001 (Statutory Instrument 207 of 2001)
Your statutory rights and legal entitlement to replacement/refund of goods is covered by this procedural document and are described in detail on the following internet link
http://www.citizensinformation.ie/categories/consumer-affairs/consumer-protection/consumer-rights/distance_selling
Once a delivery is received, you are expected to inspect the consignment of goods and check that they are as you ordered. This must be carried out within 3 working days from the delivery date. You must inform Enda in writing by letter or e-mail in all instances of delivery of damaged/faulty items. Once the 3 working days has passed, Enda accepts no responsibility to send any replacements.
Privacy Policy:
When you order, you need to give your name, e-mail address, delivery address, the credit or debit card number, card's expiry date and the card's registered address. This allows the orders to be processed and to notify you of the status of your order.
You are also asked to give your your telephone number so that you can be contacted if there is a problem with your order. If there is a delivery problem your telephone number may be given to the carriers so they can contact you to arrange delivery.
When filling in your details you may add yourself to an emailing list for occasional updates, notifications, or specific information occasionally. Enda Cavanagh can guarantee, he does not sell, trade, or give away our mailing list to any third parties.
Pricing and Taxes:
All Prices quoted on the site are quoted in Euros and exclude Irish Value Added Tax (VAT). VAT which, at the current Irish rate of 13.5% is added on in the shopping cart.
Pricing and Taxes:
All Prices quoted on the site are quoted in Euros and exclude Irish Value Added Tax (VAT). VAT which, at the current Irish rate of 13.5% is added on in the shopping cart.
Exhibitions
2012 | Duality: My first solo exhibition will be held in the Copper House Gallery
The Copper House Gallery will launch Duality, a photographic exhibition of my work, from 6-8pm on Wednesday 24th October 2012. Duality is based on a series of large panoramic images celebrating the swimming areas and baths along the Dublin coast. Senator John Crown will launch the exhibition and I am donating a piece to cancer research which will be auctioned off at a charity event. You can read more about the exhibition here on the Copper House Gallery website. You can follow regular updates on my Blog and if you like my Facebook Business Page. Admission is free and all are welcome.
2011 | Center for Photographic Art Juried Exhibition in Carmel California
Enda's photo "Lough Easkey, County Sligo 2" was exhibited in the 2011 Center for Photographic Art Juried Exhibition in Carmel California. It was one of 48 images, chosen for selection from a submission of 1290. The exhibition was open to all photographers, both amateur and professional, working in all still photographic media from around the world.