Photography Book
Exploring the Irish Landscape
CLICK HERE TO BUY ONLINE. SHIPPING IS NOW FREE IN IRELAND.
When ordering a photo and book, orders should be made separately. When ordering the book, just select collect myself as the shipping option so you won't be charged twice.
All copies purchased online are signed by me.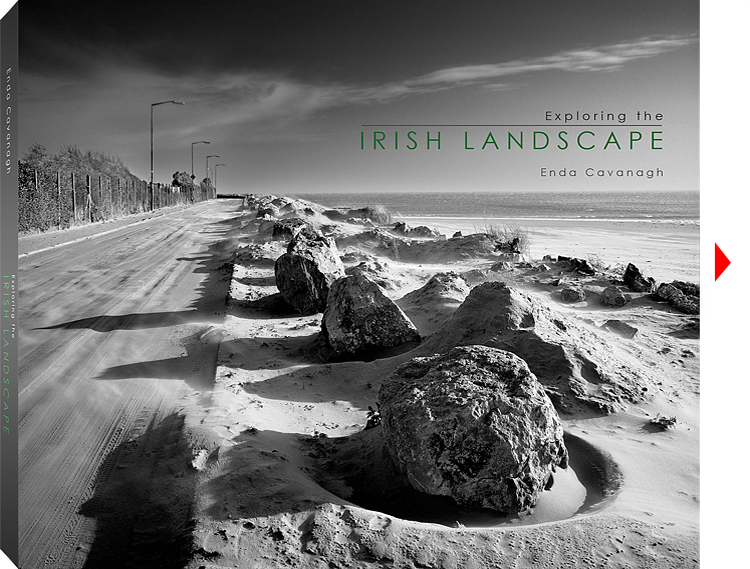 CLICK ON THE IMAGE TO VIEW INSIDE THE BOOK.
For some time I have wanted to publish a book of my favorite images of the Irish landscape. Now at last I have produced a beautiful coffee table book composed of my collection of these photos of Ireland, captured on my journeys around the irish countryside. The book is a 100% Irish produced and printed product. It was printed in Galway by a fantastic company called Castle Print. Each photo holds dear and fond memories, for me. Some were taken with my old Mamiya 7 rangefinder camera and others were taken with my Hasselblad H3D 39 and Cambo Wide DS view camera. There is quite a contrast in style between my older and more recent images, where my experience in both architecture and architectural photography began to have a profound impact on my photographic style. This is especially evident in my series of panoramic photos of Dublin.
Concurrently my fascination with man made structures appearing in the rural and urban landscape became more apparent. I think this all started after watching one of my favorite movies "American Beauty". In it one of the characters Ricky showed a video of wind tossing an old plastic bag into a spiral dance. I thought it was an incredible way of looking at the world and seeing what immense beauty there is in the world we inhabit. I think that's something that we're born with that gets ironed out of us by our culture and by experience and by conformity. There's something so simple and poetic about Ricky's encounter with the plastic bag that just keeps whirling in the breeze.
For many years I never took a photo of Dublin and it was after that movie that I began to see things in a different light and started shooting my Dublin scenes. Many of these you will find on my website and in my book. I began to appreciate how essential the presence of man is to our understanding of our environment and sought to capture the tension implicit in the emergence of beauty from the detritus of our existence. A prime example of this is my urban landscape photo "the Dun Laoghaire Baths", which was exhibited this year in the Royal Hibernian Academy annual exhibition. In the the Sunday Times Culture section review of the exhibition, Gerry McCarthy wrote "Cavanagh is represented in the show by a superb landscape shot of the Dun Laoghaire shoreline. Cavanagh's photo has the care and balance of a classical landscape painting. It's bleached-out tones and grey light make the site around an old bathing place look like a classical ruin. It is a photograph of a specific place, but also of a theme: human impact on the world, only change is real and we are deeply impacted in the process he shows us."
I believe we inhabit a land of flawed wonder and timeless beauty and I have attempted in my own way to capture the true essence of Ireland. I hope you enjoy it.
Enda
Click here for my a piece about my book and I on Nationwide on RTE TV.
Click here for my interview with Sean Moncrieff on his show on Newstalk.
Click here for a full review of the book in the Irish Times by Aidan Dunne
Click here for a full review of the book in the Sunday Times by Eileen Martin. (Subscription required.)
Click here for an article in the Irish Independent by Ken Sweeney.
Click here for an article in the Irish Examiner by Joe McNamee.
Click here for a full review of the book in the Western People by James Laffey.
STORES WHERE YOU CAN BUY THE BOOK.
I have now begun to supply the book to book shops around the country as well as Amazon and the Book Depository. Here is a list of shops so far.
amazon.com
amazon.co.uk
Barker and Jones, 2 Poplar Square, Naas, Co. Kildare. Tel. 045 856130
The Book Centre, 10 High Street, Kilkenny. Tel: 056 7762117
The Book Centre, 25 John Roberts Square, Waterford. Tel. 051 873823.
The Book Centre, 5 South Main Street, Wexford. Tel: 053 9123543.
Bookworm Bookshop, Liberty Square, Thurles Co.Tipperary. Tel. 0504 22257.
thebookdepository.co.uk
Chapters Bookstore, Ivy Exchange, Parnell Street, Dublin 1. Tel. 01 8723297
The Clifden Bookshop, Main Street, Clifden, Co. Galway. Tel. 095 22020.
The Company of Books, 96 Ranelagh Village, Dublin 6. Tel 01 4975413
The Dingle Bookshop, Green Street, Dingle, Co Kerry. Tel. 066 9152433.
Dubray Bookshop, Dun Laoghaire Shopping Centre. Tel 01 2809917.
Dubray Bookshop, 36 Grafton Street, Dublin 2. Tel. 01 6775568.
Dubray Bookshop, 4 Shop Street, Galway. Tel. 091 569070.
Dubray Bookshop, The Swan Centre, Rathmines, Dublin 6. Tel. 01 497 9722.
Eason's 113/115 Patrick Street, Cork. Tel.
021 4270477.
Eason's Bookshop, 40 Lower O'Connell Street, Dublin 1. Tel. 01 858 3800.
Eason's Bookshop, Unit 1 The Pavilion, Marine Road, Dun Laoghaire. Tel. 01 2020017.
Eason's Bookshop, Dublin Airport.
Eason's Bookshop, 33 Shop Street, Galway. Tel. 091 562 284.
The Exchange Bookshop, 34 Castle Street, Dalkey, Co. Dublin. Tel. 01 285 3805
Hampton Books, 93a Morehampton Road, Dublin 4. Tel 01 6673072.
Hodges Figgis, 56-58 Dawson Street, Dublin 2. Tel. 01 6774754.
Keohanes Bookshop, Arran Street, Ballina, Co. Mayo. Tel. 096 21475.
Keohanes Bookshop, Castle Street, Sligo. Tel. 071 9142597.
The Killarney Bookshop, 32 Main Street, Killarney. Tel. 064 6634108
Mcloughlin's Bookshop, Cavendish Lane, Castlebar, Mayo. Tel. 094 9034646.
Mcloughlin's Bookshop, Shop st Westport Co. Mayo. Tel. 098 27777.
Liam Ruiseal Bookshop, 49-50 Oliver Plunkett Street, Cork. Tel. 021 4270981.
Rathgar Bookshop, 100 Rathgar Road, Dublin 6. Tel. 01 4928600.
<span