Enda Cavanagh's creative inspiration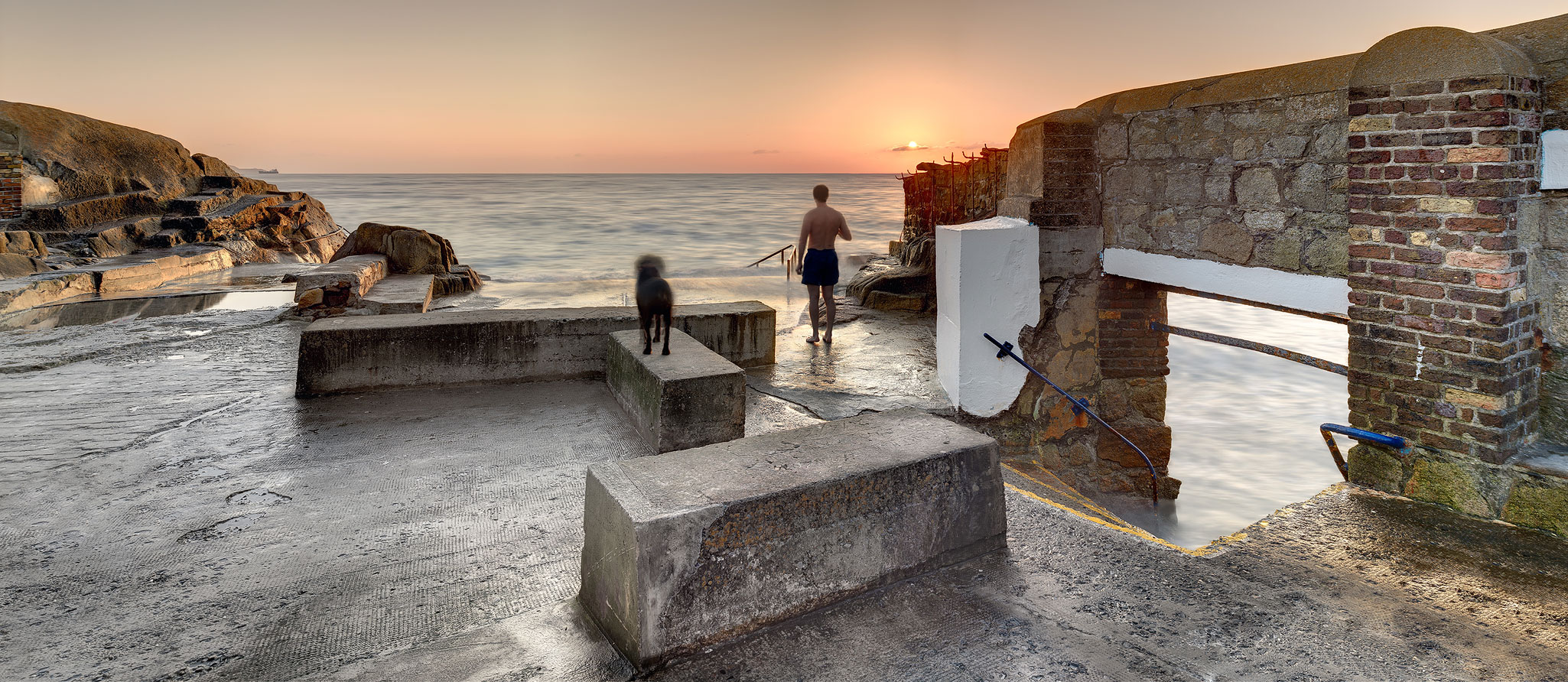 Enda Cavanagh is a Dublin-based photographer, but his roots go deep into the heart of rural Ireland, in Sligo. It's there that his passion for photography and his appreciation of the beauty of landscape photos took root.
Looking at Enda's landscapes photos, you'll see evidence of man's existence and his impact on the land. His work captures and communicates the character and the subtle patterns and forms that he sees in the landscape.
While living in Berlin, Germany, he developed a fascination with the faded glory of man-made buildings – transient structures that are left to their own devices as they age. Berlin had a huge influence on Enda: he saw beauty, character, and fragility in these structures.
Moving back to Dun Laoghaire in Dublin, Enda began seeing the swimming areas baths of the city differently, and recognized a bit of Berlin in them.
"I saw Grand Canal Dock bathed in sunshine while it was pouring rain, and I saw Poolbeg Power Station during one of the most amazing blood-red sunrises," he explains. "I realized that I wanted to record these old decaying structures; character that only developed in its later, crumbling life. These, like myself, took several years to find their voice."
In his urban landscape photos, these structures are displayed as evolving, almost living entities with their own personalities. They are symbolic of a connection to our past. They are an intrinsic part of the Irish landscape, but in time they are consumed by their surroundings. To viewers, to those who remember these places, these photos hold a sense of fragile beauty, and the memories of place.
This creative inspiration led him to shoot a series of award-winning panoramic photos, which were part of his aptly named Duality exhibition. Duality, opened by Senator John Crown in 2012 at the Copper House Gallery, celebrates the swimming areas and baths along the Dublin coast. Swimming in seawater, the weightlessness of the water calms our mind, and connects us to nature, and to ourselves. It's this connection that we see between the man-made structures and their environment, as one blends into the other.
This is the tension and connection Enda sees between man-made structures and nature.The beauty he sees in this challenges our perception of beauty and asks us to reconsider how they become attractive with age.
The Duality series is very close to Enda's heart. It's the significance to his past that increase their importance to him. 'Old' represents the memories and bond that one has of loved ones and the fragility of life.
Like his architectural photography and fine art landscape photography, Duality draws the viewer in closely, immersing them in the incredible detail of the scene and making them part of the scene. Shot in cinematic-style, large panoramic format with a Hasselblad H3D39 digital-back on a cambo view camera, these photographs create a unique perspective.
As he photographed Dublin's swimming areas for this series, the strength of his architectural experience and his new life as an architectural photographer greatly influenced how he shot these images. Now, all aspects of his life experiences influence his pieces: he doesn't look for beauty in particular, but sees it in its own form.
His photographs are emotional pieces that have their grounding in form and structure.